DK Karaoke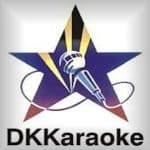 The DK Karaoke disks arrived in North America from Japan in the mid seventies. DK were at one time, the most sought after discs in the industry but around 1989, they decided to quit producing.
The most significant thing about DK Karaoke CDs was, they put a lead melody on each song even if it was not included in the original. Many songs have no more than chords accompanying the singer so it is difficult to follow the melody if you don't know the original. This melody was inserted with a soft horn instrument and sometimes a flute. When you sang it covered the sound and it was really well received.
In CDGs they produced four more series, The DK Premier(DKP1101 to DKP1115) The DK Applause(About DKA3086 to DKA3100) and the DK Encore.(DKE2001 to DKE2035) The DKA Series are mostly single artist. These series are all an average of 15 to 18 songs per disc.
---